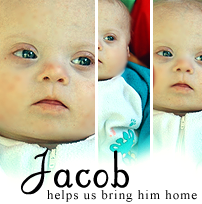 Jacob is home! :)
The family that has been 'stuck' in the system because their son is in an institution is waiting on more paperwork but otherwise ready to come HOME!
A Dad is in Ukraine to bring their son home but is "stuck" there due to some issues with the CDC and a question about TB (which he has no symptoms of).  Please pray they can get home soon!
The families adopting kids in the Kiev area are all visiting their children and doing well!  One had some hiccups with unexpected behaviors of a child they'd committed to but they have adjusted their plans and are doing well.  Please continue to pray for these families!
Some of our TEN families that have their paperwork in Ukraine (or enroute) waiting for it to be submitted or waiting for a travel date have received their travel dates! The ones with paperwork snags have all been accepted now!  One family is still waiting on their submission and it keeps being put off later so please pray for them.
Our family in Haiti- missionaries now- is doing well and I'm sure appreciate your continued prayers as they live this 'new life' while they await the completion of their son's adoption.
One family is in Serbia adopting their little girl right now!
There are several families set to travel in July as well to several different countries.
Please keep all these families covered in prayer!!