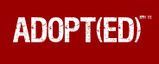 WOW! Mike and I listened to this last night and were overwhelmed by the words of this minister. He speaks to the church about orphans and adoption. What a powerful truth that he preaches so much from his heart!
We've only listened to the first one, but I can promise you that we'll be listening to the others soon! The first one was 1 hour(ok, it was shorter, but the MESSAGE was 30 minutes, but don't stop before the end... It's SO worth it!).
So, I want to challenge those of you that consider yourselves (or would like to :) ) among our close friends and family (yep, that includes my online buddies!)to take the time to listen to one of these messages each week for the next 4 weeks. Thirty minutes, that's what I'm asking for. And you'll be changed. And our relationship will be changed.
Please, if you take this challenge will you tell be about it as you go? I've made a button with the logo for the sermon series. And I'll remind you each week with a link so you can take this journey with us.