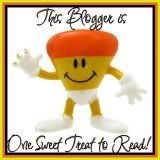 Christina over at
Kwisteena's Kwaziness
nominated me for this sweet treat award! My first award :)
Thanks Christina! She has a great blog about raising her two daughters, the older of which has Down syndrome. Go take a peek!
I'd like to nominate Charissa over at
A Day in the Life of the Urbans
who is also blogging about her upcoming adoption!
Both Christina and Charissa's blogs are surely sweet treats!